Skip Parsons' Riverboat Jazz Band -
Jerry Gordon, guest
by Cliff Lamere 15 June 2005
At the Clifton Park, Saratoga Co., NY Elks Club Jan 18, 2005.
Photos taken by a member of the audience with Jerry's camera.
Jerry Gordon of Troy, NY occasionally plays washboard with the
Skip Parsons' Clarinet Marmalade Trio (below) and with other ensembles of Skip's.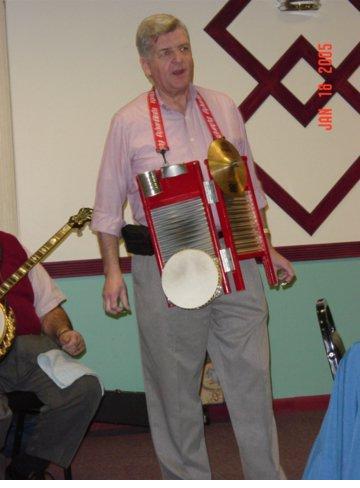 Jerry Gordon talking to the audience?
(Or, as he suggested, was he just stifling a yawn?)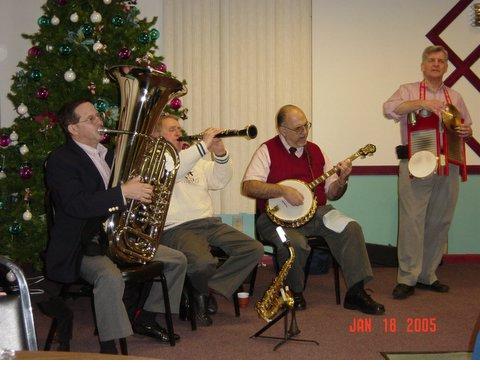 Ernie Belanger, Skip Parsons, Eddie Kebabjian, and Jerry Gordon (left to right)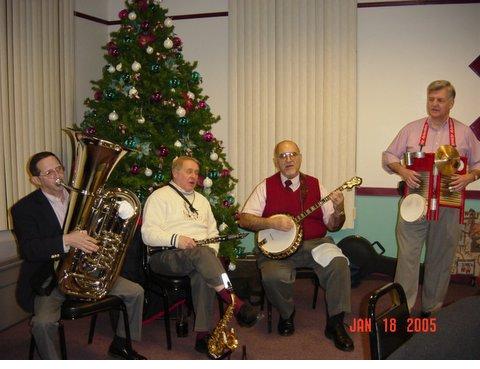 Ernie Belanger, Skip Parsons (vocalist), Eddy Kebabjian and Jerry Gordon
Jerry Gordon is webmaster of A Place For Jazz and also
Swingtime (a magazine serving New York State's Capital Region)
___________________________________________________
See Jerry Gordon in photos taken by Cliff Lamere
Jerry Gordon at the Fountain
Other Photos on the internet
Jerry Gordon at Brunswick Greens (2004)