Skip Parsons' Riverboat Jazz Band -
Oakley Frost, guest
by Cliff Lamere Nov 2004, revised May 2011
Photos by Cliff Lamere
At the Fountain Restaurant, 283 New Scotland Ave., Albany, NY .

Dr. Oakley Frost - stick bass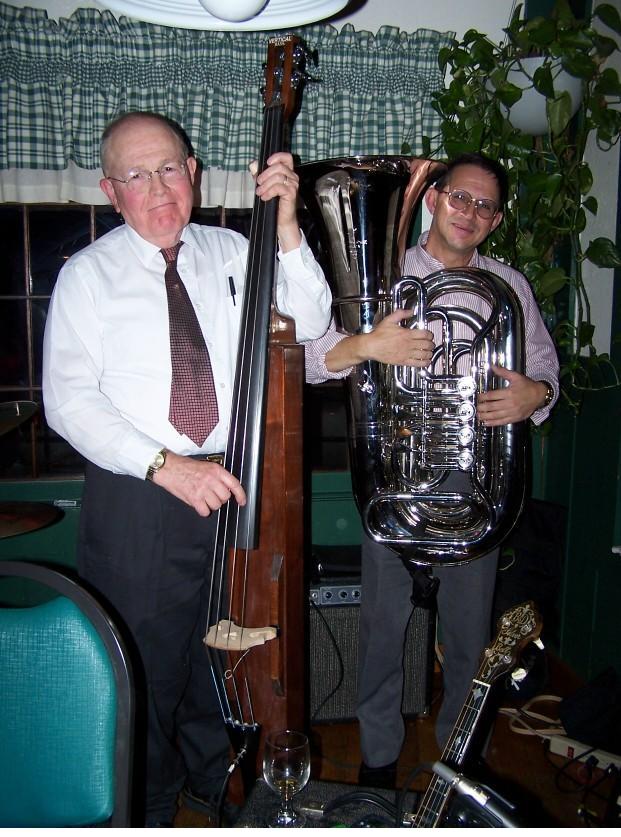 Oakley Frost with Ernie Belanger and his St. Petersburg tuba. (2004 Nov 13)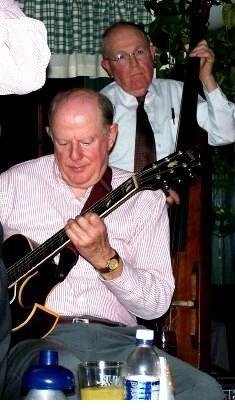 Oakley Frost with Ron Bill on guitar (2004 Nov 13).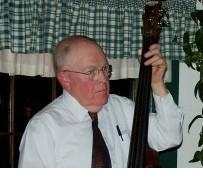 Oakley Frost (2004 Nov 13)

OBITUARY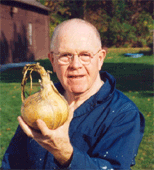 Oakley M. Frost (1932-2011)
Dr.Oakley M. Frost, retired surgeon and former longtime resident of North Bennington died unexpectedly Monday May 16, 2011 at his home in Hoosick Falls, NY, he was 79 years of age.
Born in Middletown Springs on February 23, 1932, he was the son of Oakley T. and Lillian (Gentles) Frost, he received his early education at the Whitney School in Old Bennington and was a graduate of Plattsburgh (NY) High School. He continued his education at Williams College in Williamstown, MA where he received his under graduate degree and then Albany Medical School where he obtained his Doctorate in Medicine Degree. He pursued specialized training in Vascular and General Surgery at Albany Medical Center and the Veterans Administration Hospital in Albany where he served his internship. A resident of the Bennington area since 1965, he was a Vascular and General Surgeon at the Southwestern Vermont Medical until retiring in 2005. Dr. Frost was a Korean War Veteran serving in the US Navy aboard the USS Boston.
He was a member of the Zion Episcopal Church in Manchester Center, Mt. Anthony Lodge Free and Accepted Masons, Bennington Rotary Club, Sage City Symphony, Union College Symphony and a board member of the new England Tropical Conservatory. He thoroughly enjoyed music and was a member of the Sage City 6 Dixieland Band, Frosty 4 Barbershop Quartet with his sons and has sung with the Mendelssohn Club of Albany. He also enjoyed gardening, maintaining a large garden for many years at his home and was known for growing beautiful dahlias, he loved his 59 Corvette which he has owned since being a young man.
He leaves his wife Carol (Comar) Frost whom he married November 3, 1996 in Bennington, his former wife Dorothy Frost of North Bennington and their children daughter and son in laws Elizabeth Anne and Jeffrey Silva and children Conner and Rowan of Ipswich, MA, Kristina Kim and Jeffrey Moll and children Remy and Sami of Middleton, MA, Laura Maria and Eric Van Denbrulle and daughter Eve of New York City, son and daughter in laws John David Frost of Burlington, Robert and Julie Frost and children Olivia, Hannah and Addison of Monroe, CT, Matthew Joseph and Susie Frost and daughter Kyana of North Bennington, Jonathan Jay Frost of West Palm Beach, FL, Eric Scott and Nancy Frost MD FACS and children Erica and Adam of Bennington, Randall Oakley Frost of North Bennington, Gary D. and Laurie Frost and children Alicia, Alexis, Rachel and Kristina of Stuart, FL, step daughter Angela Pugliese of Bennington, sisters Margery Sherman and son Andrew of Sidney, Australia and Cynthia and Timothy Moran and children John and Tim of Glenrock, PA. Dr. Frost was predeceased by a sister Betty Ann Frost.
Funeral services will be held on Saturday May 21 at 10am at the Hanson-Walbridge Funeral Home with the Reverend John Mitchell, rector of the Zion Episcopal Church officiating. Burial with full military honors will take place in the Frost family lot in Pleasant View Cemetery in Middletown Springs.
Friends may call at the funeral home on Friday from 5-8pm when the family will be present. Memorial gifts in memory of Dr Frost may be made to the New England Tropical Conservatory in care of the Hanson-Walbridge Funeral Home, 213 West Main Street, Bennington, VT 05201. To send personal e-mail condolences to the family. All member of the Mt. Anthony Lodge F&AM are asked to meet at the funeral home on Friday evening at 6pm to conduct services for Dr. Frost, all members of the Bennington Rotary Club are asked to meet at the funeral home on Friday evening at 5pm to pay their respects to the family. [Source]