Funeral of Donald "Don" LaVoie
(1934-2010)
Webpage by Cliff Lamere 23 May 2015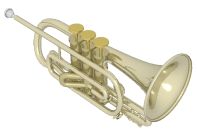 Don LaVoie was born August 9, 1934 and died June 16, 2010. On June 21, there was a large gathering of musicians to send him off in the New Orleans style of jazz with which he was so familiar. Don played both cornet and banjo.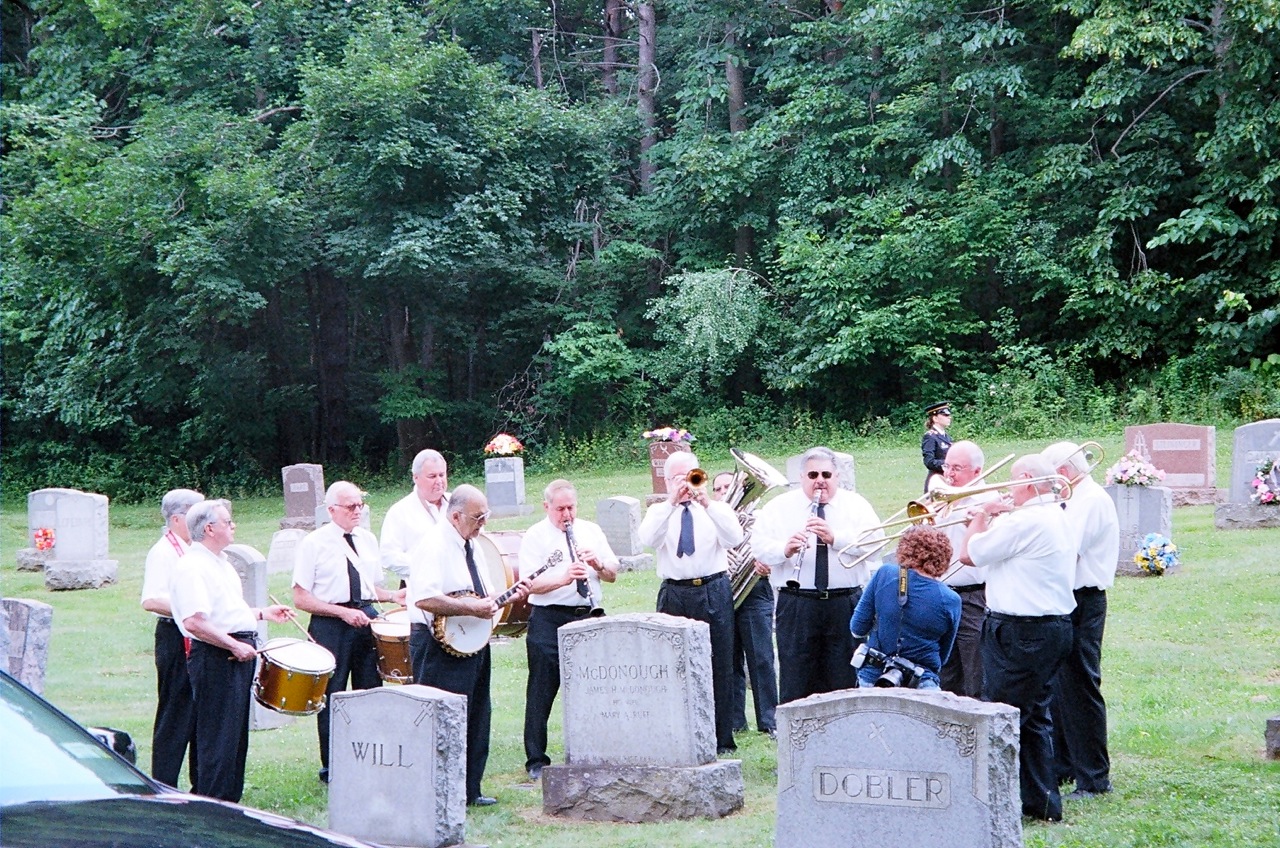 (L-R) Jerry Gordon (washboard), Tim Coakley (drum), Tom D'Andrea (drum), Rich Skrika (drum), Ed Kebabjian (banjo),
Skip Parsons (clarinet), Mike Canonico (horn), Ernie Belanger (tuba), Ron Joseph (clarinet),
trombones by Bobby Morris (Syracuse), Woody Strobeck, and Tom Cheles.
(St. Jean Baptiste Cemetery in Troy, NY)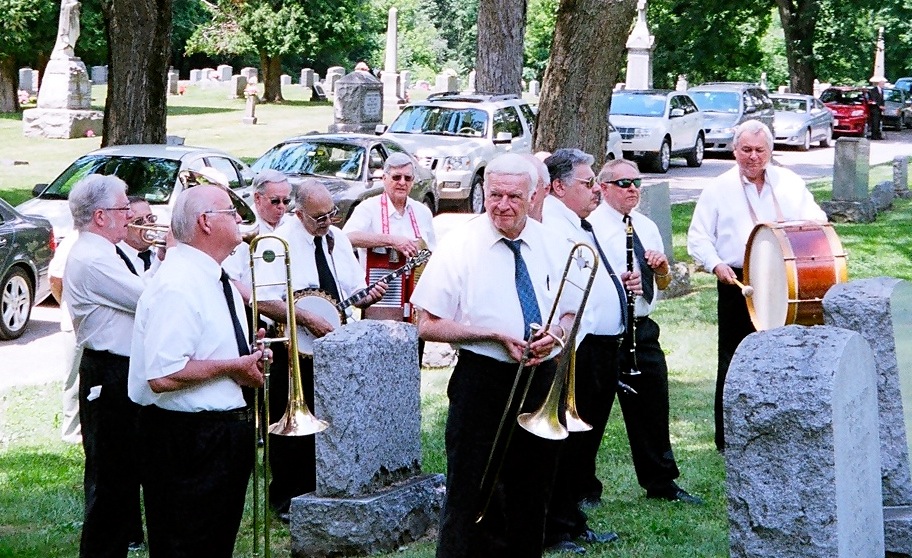 (L-R) Mike Canonico, Ernie Belanger, Woody Strobeck, Tim Coakley,
Ed Kebabjian, Jerry Gordon, Tom Cheles, Ron Joseph, Skip Parsons, Rich Skrika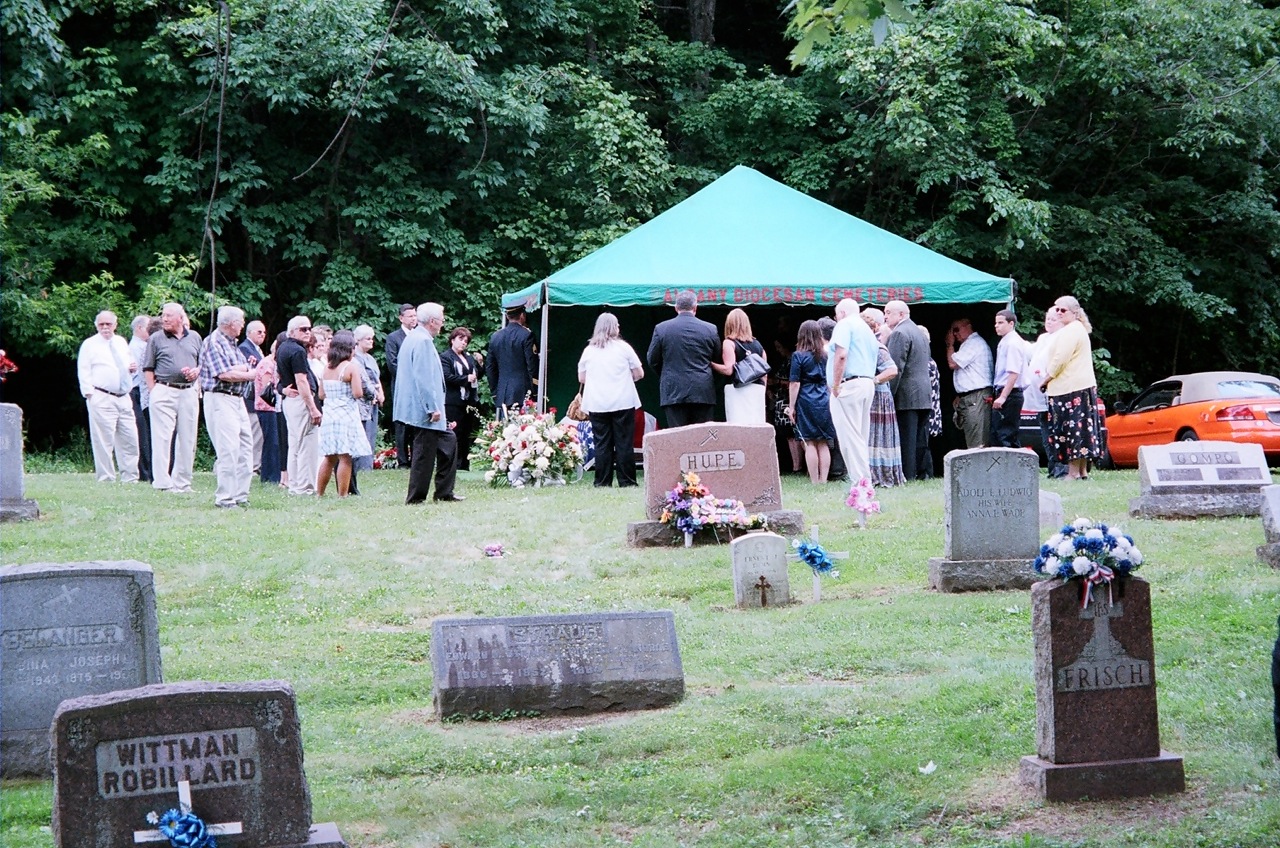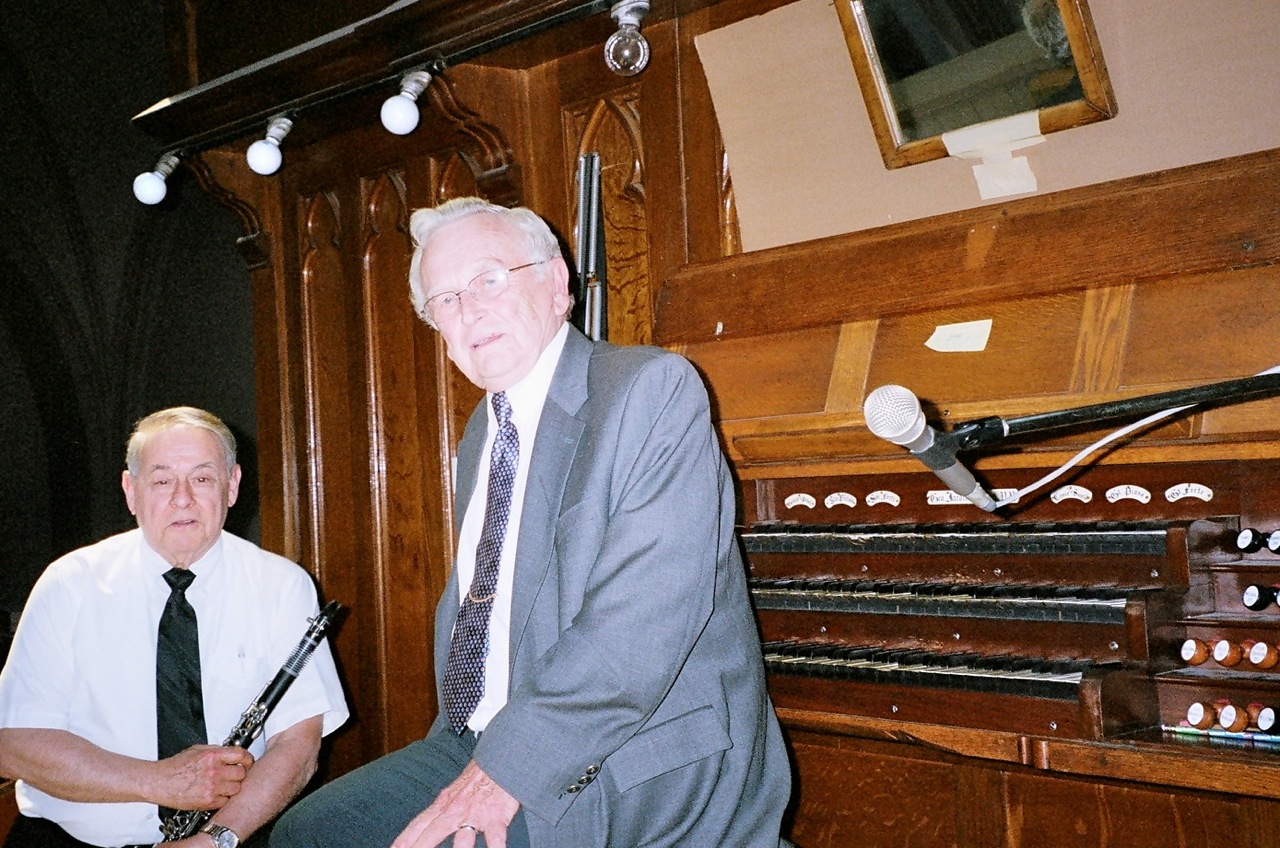 Skip Parsons and Stan Muraski are shown here in the choir loft of St. Patrick's Cathedral, Watervliet, NY.
"Stan Muraski and I played for the church service that day (Just a Closer Walk With Thee). Unfortunately, the poor old
decrepit organ didn't work well enough to make use of it. As it turned out Stan and I went on the altar
and used a piano ... to complete our mission. I'm sure Don would have liked it."
(photograph by Linda Parsons)

Obituary for Don LaVoie

LaVoie, Donald "Don"
LATHAM -- Donald "Don" E. LaVoie, 75, of Latham, passed away peacefully on Wednesday, June 16, 2010 at Schuyler Ridge Rehabilitation Center in Clifton Park. He was the devoted husband of Kate M. LaVoie.
Born in Troy, Don was the son of the late Wilfred Charles and Mildred Faille LaVoie. Don was a US Army veteran and was employed as a draftsman with the NYS Thruway Authority and a renowned musician. Don was employed as a draftsman with the NYS Thruway Authority for 30 years, before retiring in 1994.
Don was a self taught musician who started playing the coronet [cornet] in his early teens. While still in high school, he formed his first band, 'Don LaVoie and his Starlighters'. While in the US Army, he played the coronet [cornet] in the Army band. Don formed 'The Riverboat Jazz Band' with Skip Parsons in the mid-1950s. It was during this time that Don was introduced to the banjo. He quickly learned to play it and perfected his craft of playing New Orleans' style jazz, which he had loved since he was a kid. Although he became a very accomplished banjo player, it was the coronet [cornet] that remained his passion. He was well known in this area and played with such bands as "The Riverboat Jazz Band," "The Don LaVoie Trio," "Don LaVoie's 1927 Music Machine," "The Jazz Cellar Six," "Reggies' Red Hot Feetwarmers," and many others.
For several years, Don performed at Saratoga's Flat and Harness Tracks, on the Lake George Cruise Boats, Waterford's Canal Festival, The Garlic Festival, political events and at numerous parties during the Saratoga racing season, including Mary Lou Whitney's gala. In 1980, he played at the Winter Olympics in Lake Placid where he received national television exposure. Don was raised in Watervliet and graduated from St. Patrick's School and Watervliet High School, class of 1953.
He married his wife, Kate on August 31, 1963 and they moved to Latham in 1971. Don was an avid NY Yankees fan and lifelong Frank Sinatra fan. In addition to his beloved wife, Kate; Don is survived by his children, Renee (Donald) Howe of Waterford and Donald (Jodi) LaVoie of Ballston Spa; his grandchildren, Kate Howe, Erin Howe and Maximus LaVoie, step-grandson, Steven Howe of Calif.; brother, Wilfred LaVoie, Jr. of Calif. and several nieces, nephews and cousins. Don is also survived by his cherished cat, Elmo.
Funeral service will be held Monday, June 21, 2010 at 12:00 (noon) at St. Patrick's Church, Watervliet, where a Mass of Christian Burial will be celebrated. Family and friends are invited and may call at the Parker Bros. Memorial Funeral Home, Watervliet on Sunday from 3 to 6 p.m. Interment will be in St. Jean Baptiste Cemetery in Troy.